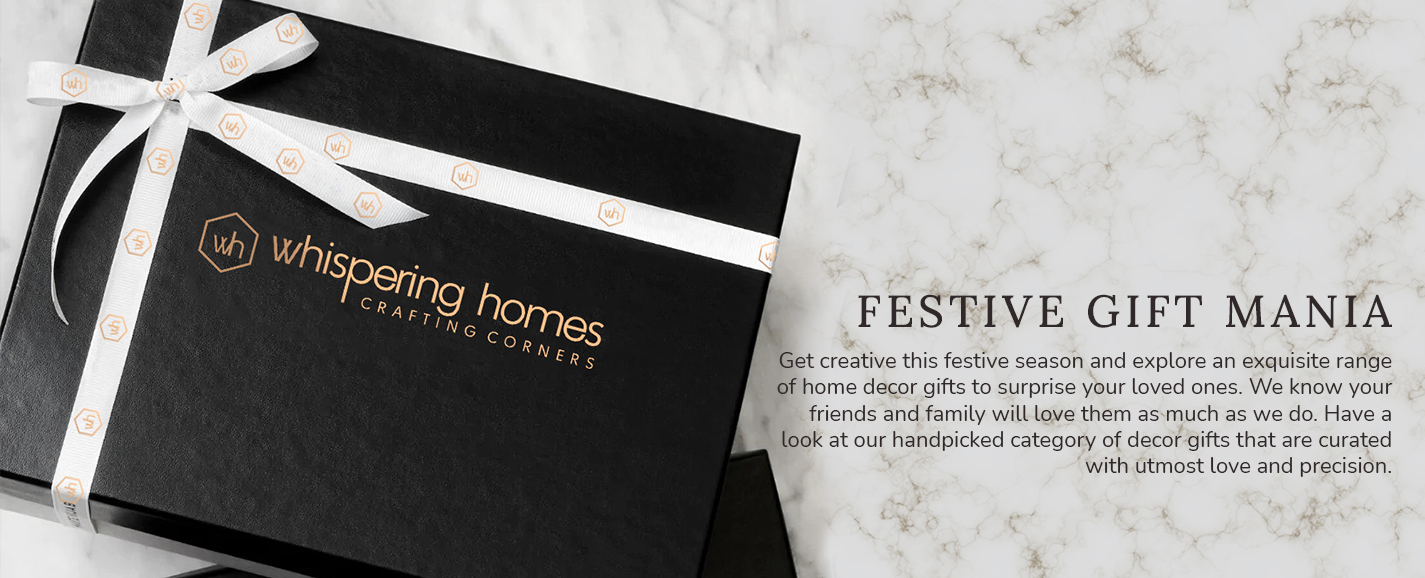 EVERYDAY OCCASION
Why choose home decor items for gifting purposes?
Decorative home decor items are perfect to surprise your friends and family on different occasions. Do you also want to make your loved ones feel special? Well, the best way possible is to gift something aesthetic and designer that complements their style and also adds a quirky charm to their home decor. Functional and useful gifts are loved and cherished by all. Easy to handle and maintain, home decor items are long-lasting as well as budget-friendly. If you want to buy a gift item that is unique and within your planned budget then you should definitely try out different categories of home decor accents.
Why explore decorative accents for choosing special gifts for your loved ones?
Your loved ones deserve to be appreciated and surprised on special occasions like birthdays, anniversaries, housewarmings, etc. Decorative accents are one such category you can explore while choosing an ideal gift for your friends and family. Gifting should not be taken as stress but rather a beautiful opportunity to express your love and gratitude towards your loved ones. Introducing the world of luxury living through quality home decor items is a perfect option to try out whenever you plan to gift someone in future. These items work marvelously as a memento of your love and care. Your loved ones will always appreciate your sweet gesture of gifting.
Where to buy home decor gifts online?
Explore the best home decor gifting range on Whispering Homes. It is a one-stop online destination that offers a huge category of decor accents under one roof. Each piece is curated with utmost love and care without compromising on quality. Buy your favorite designer products at pocket-friendly prices to gift to your friends and family. Whispering Homes ensures to provide trendy gifting options that are eye-catching and calming for any theme decor. You can also check out personalized and customized gifting categories to make your loved ones feel extra special. Choose according to their style and taste from a vivid collection of products online on its site. Get your chosen gifts delivered right next to your loved one's doorsteps by mentioning their address while placing an order.
Why choose Whispering Homes for buying online home decor gifts?
Do you often get confused while picking an ideal gift for your loved ones? Worry not! Whispering Homes offers a plethora of gifting options on its online website. Purchase quality home decor accents within budget-friendly price ranges. You can explore and compare various accents by taking a glimpse at their descriptions and suggestive ideas. Buy trendy gifting options that are pleasing crowds nowadays and preferred by different age groups. You can also buy customized art on Whispering Homes to give a more personal touch. Your friends and family will love these decor items for sure.
What are the different home decor items suitable for gifting friends and family?
Vases: Surprise your loved ones with quality ceramic vases. The absolute epitome of class and design, each vase is made of quality material and has a terrific finish. Perfect to display favorite blooms and add a decorative colorful touch to the interior palette. 

Pots and Planters: Satisfy the green fingers of your friends and family by gifting a set of nice pots & planters on special occasions. Perfect to create a beautiful botanical display and decorate the balconies or kitchen garden. These items as gifts will definitely be cherished and appreciated by your loved ones. 

Dried flowers & Pampas: Long-lasting botanicals that are dried and preserved using eco-friendly techniques are perfect to gift as beautiful bouquets. Colorful combos of different dried flowers are ideal to present to your loved ones on occasions like weddings, anniversaries, etc.

Wall paintings: Celebrate the mutual love for art with your loved ones by gifting them an aesthetic wall painting. Select from different wall art categories and gift a unique painting to add a charming touch to the interiors of their home decor.

Decor accents: Beautiful decor accents that are ideal to add a luxurious touch to any theme decor. These items are beautiful gifting options to try out for your friends and family.
Why wait? Grab the most amazing home decor gifts of all time on Whispering Homes. Visit the gift section on the online site and shop now!
Be inspired by our Bestsellers